Yesterday was all I had planned for and more. I managed to do everything I had hoped plus some. Day started off with the Science Fair where judging went really good. I tried not to be such a hardass (aka fair), but Peter kept giving me grief for being so pedantic about scoring. He was on Benedryl, so that explains his moodiness. I then went downtown to pick something up work related and got back just in time for my meeting about darkroom use at my former school. I miss that very much, but it looks like at least this week-end and next, it's all mine and I can finally do some bloody nice pictures! Thank you MLK Jr. for this Monday holiday!
After that, Juli dropped by and we had lunch with Alex and Big Don, one of my favorite people, a self described "old hippie" with a lot of soul and the heart of a philosopher. An amazing person to talk to. He also has a Deli in Rogers Park where they truly make the best sandwiches.
But the evening wasn't done. After falling asleep and telling Juli I wasn't going to Too Much Light, Lauren called and said she'd be by...and so I went. I am such a bastard, apologies all around. The show was good, Ken and Lauren were great company once again, and you can read his take on the night on his blog. All in all, a long, but a great day with friends I am very fond of and care a whole lot about. Not both, just one of the two.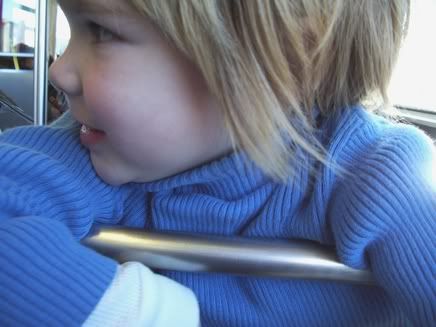 This is Margo and she and her mom kept me company on the ride downtown. A very sweet little 3 year old, very full of life and the energy of a million Red Bulls. Good Saturday y'all! Literally!